Skip to Content
A unique event deserves a unique location like Times Square. Our flexible event spaces are ideal for intimate meetings, celebratory dinners, and grand galas in Manhattan. In addition to the grand Gotham Ballroom, we have 13 rooms named after Manhattan's parks, featuring designs inspired by nature and a subtle color palette.
As part of the InterContinental Insider Collection, our events team provides a range of delegate experiences that are rooted in the destination and draw on our unrivaled local knowledge to create truly engaging, personalized meetings and events. From team-building to connecting with local speakers or volunteer opportunities, the experience can be truly tailored to your occasion.
Please contact: +1 212-803-4500 | ictsqsales@ihg.com
Meeting Essentials
10 Meeting Rooms
Over 10,000 sq ft of Event Space
Ballroom available
Separate meeting registration area available
Sales & meeting professionals on site
AV Audio Technology
Stage Lights
Stages and Platforms
Portable Dance Floor
Meet With Confidence
Our Commitment to you
With a priority for flexibility and technology, our hotel offers solutions and services to host successful hybrid and in-person meetings. Our experienced team understands the demands on your time as a busy event planner and is focused on making sure that the process runs seamlessly at every stage.
Book Your
New 'Home' Office
Get your creative juices flowing in our newly renovated, 350 square feet, "home" offices. IHG Way of Clean and Clean Promise partners with the Cleveland Clinic and EcoLab to ensure a clean, safe place to work and rest.
Floor or More
Office Collection
A room not enough? Teams can now buyout an exclusive floor at the InterContinental New York Times Square with weekly rates starting at $15,000 for sixteen individual "home" offices with breathtaking views of Times Square and Midtown Manhattan.
Bryant Park
Capacity: 40
High ceilings, a serviceable bar, and a TV are included in this ideal setting for intimate gatherings or board meetings.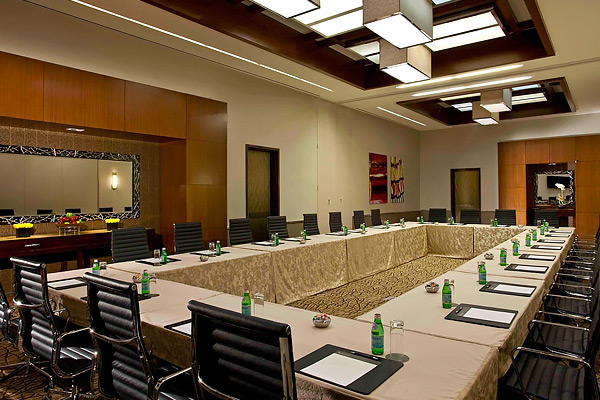 Central Park Ballroom
Capacity: 112
Our smaller ballroom features 12.5-foot ceilings, multiple entrances, and flexible space for events of any style.
Gotham Ballroom
Capacity: 300
Our premium ballroom features 14.5-foot ceilings, multiple entrances, and expansive square footage.
Washington Square Park
Capacity: 100
This flexible room can be appointed for a variety of seating arrangements to create a unique atmosphere.
Gramercy Park
Capacity: 30
Ideal for more intimate gatherings, this meeting space is designed for flexibility in seating arrangements.
Hudson River Park
Capacity: 10-32
This space can be flexibly arranged for meetings, gatherings, and break-out sessions.
Madison Square Park
Capacity: 30
This smaller meeting space offers an intimate setting for smaller meetings or break-out sessions.
Riverside Park
Capacity: 45
This flexible space is suitable for smaller receptions or larger corporate meetings.
Union Square Park
Capacity: 90
Enjoy high ceilings in this venue that suits larger sessions or corporate luncheons or dinners.
Stinger Dining Room
Capacity: 100
Enjoy natural light and refreshing courtyard views from the private dining room of our restaurant. Our private dining team will provide diligent service for an unrivaled experience.
Duplex Penthouse
2,700 sq ft
The open-concept design of our Penthouse provides an unforgettable backdrop for stylish events. Enjoy flexible lounge seating, a dining area with seating for eight, and a kitchenette.
Executive Boardroom
Capacity: 12
Get down to business in our mezzanine level boardroom featuring luxe leather seating, private restrooms, and built-in HDMI capabilities.
Carefully Curated
Meeting Menus
From fresh seasonal breakfast to full buffet spreads that offer a taste of Chinatown or Little Italy, our catering service takes cues from the diverse cuisines of New York City. With lobster bisque, filet mignon, and made-to-order crepes as options, our wonderfully varied menus are sure to satisfy any appetite.
Holiday Parties
Coming together is more meaningful than ever. Celebrate a holiday party, mark a special occasion, or entertain clients in the luxuriously modern atmosphere of our ballrooms and private dining rooms. Our event team is ready to assist you with every exquisite detail.
Private Dining
After a full day of meetings, unwind over cocktails and canapés with colleagues and business associates in The Stinger stylish private dining room. Featuring a freestanding bar and ample space to mingle, this distraction-free space is ideal for a reception for up to 50 guests.